BuTech
BuTech is a leading manufacturer of High Pressure Valves, Tubing, Fittings and Accessories. Established in 1973, the Company has been a recognized leader in the High Pressure Piping Component Market. Butech products operate in the range of 6K - 150KPSI. BuTech's commitment to quality, customer service, and innovation; drive them to becoming the worlds leading supplier of high pressure valves, fittings and tubing.

Milton Roy
Since the invention of the metering pump by Milton Roy in 1936, and still today as a global leader of highly engineered products and equipment, Milton Roy continues to respond and anticipate changes in the industry to meet and exceed the expectations of their customers. Headquartered in Ivyland Pennsylvania, Milton Roy has expanded its initial product offering of metering pumps to include fluid control and odorization equipment in a wide range of industries including water treatment, wastewater, oil and gas, and photovoltaic markets.
Haskel
Haskel International, Inc, founded in 1946, is a manufacturer of highly engineered fluid and gas handling equipment designed to generate, store and control high pressure gases and liquids. They have built an enviable reputation for quality based on high pressure fluid and gas handling equipment, and over 65 years of hydraulic and pneumatic engineering experience. Anywhere there is a need for generating, storing, and controlling high-pressure gases and liquids, a Haskel product is available to generate the needed pressure.
BuTech Needle Valves
High Pressure Valves for demanding applications
Low, Medium and High Pressure with pressure ratings to 150,000 psi, are designed for liquid and gas flow control in petroleum, chemical, power generating and general industrial applications. Available in a variety of body styles, the valves are designed for operation at temperatures ranging from -100*F to +600*F. Optional packings and/or extended stuffing boxes increase the range to -423*F to +1200*F
Low Pressure Valves Fittings and Tubing (15,000 psi) »
Medium Pressure Valves Fittings and Tubing (20,000 psi) »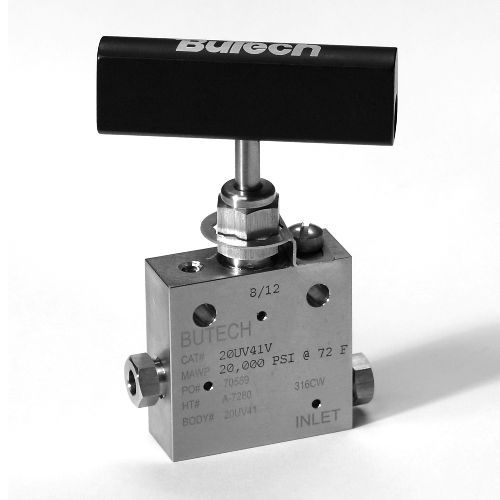 BuTech Ball Valves
Installation Versatility
BuTech Ball valves are available in 2-way, 3-way, 4-way, and 5-way designs with pressures to 20,000 PSI at 72*F and a wide range of connections including male and female NPT, low-pressure compression fittings, medium- and high-pressure tube ends, medium- and high-pressure female, JIC 37* flare, SAE O-ring boss, socket-weld, butt-weld, and metric connections. They can also be fitted with pneumatic or electric actuators for remote control.